Our clients leave feeling sexy, powerful, and ready to take on the world.
Watch Nicole's Testimonial:
Changing The Lives Of Women With Thin Hair
Join the 1000+ clients in South Florida who have worked with Karen at Palm Beach Salon to make their hair dreams a reality!

Instant Length • Add Volume • Color Without Damage • Custom Hair Solutions
100% Human Remy Hair color matched and cut to look completely natural.
See our clients Hair Transformations
(Click image to see our entire Before & After Gallery)
Extension Methods We Offer
Tape In
Tape hair extensions is a "sandwich" method which is secured with medical grade adhesive. They can be easily removed and reapplied.
Starting at $499 (Installed+Styled)
Pro's:
Bonds are very small so they are less detectectable
Extremely flexible and moves more naturally with your own hair
Can be worm for 3-4 Months
Con's:
Limited when putting hair up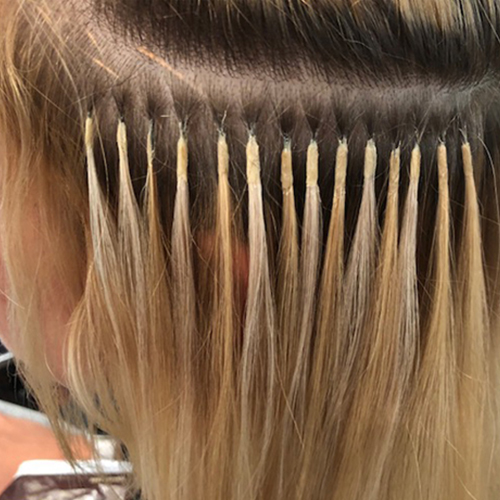 Keratin Bonds
Keratin bonds is a "strand-by-strand" method. Hair is applied by heating a keratin protein which securely attaches to the hair.
Starting at $799 (Installed+Styled)
Pro's:
Bonds are very small so they are less detectable.
Moves more naturally with your own hair
Can be worm for 3-4 Months
Con's:
Cannot reuse the hair
Not ideal for fine hair clients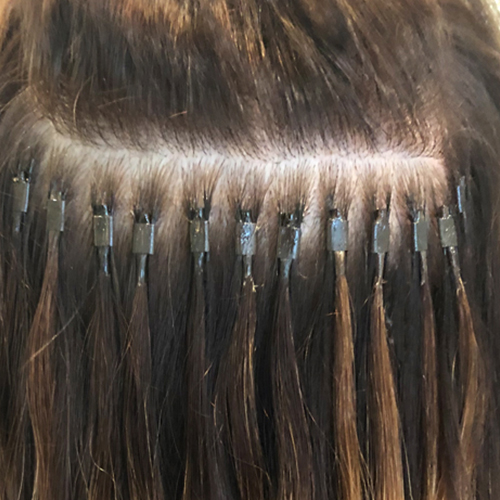 Microtip/I-Tip
Microlink extensions is a "strand-by-strand" method. Securely attached with a small bead without the use of heat or strong adhesives.
Starting at $799 (Installed+Styled)
Pro's:
Like Keratin bonds, these are flexbile and move freely.
Can reuse the hair 3-4 times
Applied without using any heat
Con's:
Not ideal for fine hair clients
Meet Karen
Hi! My name is Karen. I am the owner of Palm Beach Salon as well as a Hair Extension Specialist. I become a Certified Extension Specialist while working in the Hair Restoration industry. After seeing some of the most extreme cases of hair loss, I realized the immense impact that looking and feeling great can have on one's life. It was at that point that I became very passionate about transforming people's lives through my services. I have spent the last 10 amazing years in this field and have soaked up every educational opportunity possible. As a Certified Hair Extension Specialist, I am highly skilled in hair extension customization. As well I can help you with brand selection, color matching, blending techniques and placement. Give me a call or text today to discuss your hair goals at 561-281-9155.
Let's make your hair dreams a reality.
We will reach out as soon as possible (Within 24 hours)
By submitting this form, I agree to be contacted by Palm Beach Salon at the phone number that I have provided on this form including my wireless number if it was provided. We will never sell your information.
Frequently Asked Questions
How Long do Hair Extensions Last?
There is no predetermined amount of time that hair extensions can last. The longevity of your hair extensions will depend on a variety of factors including the method of hair extensions you choose, the skill of your stylist and the quality of your hair extensions. Here is a general guideline as to what you can expect when it comes to the time frame for various hair extension options:
Some of the most traditional hair extensions are the sew-in extensions. These can last up to two to three months before needing to be maintained, and are not recommended for women with very fine hair.
Newer times bring better technology. Fusion hair extensions have been the most popular hair extension method over the past few years. These technologies offer extensions that can look extremely natural and can last up to 6 months if you properly maintain them. Initially the cost of this technique is more, but maintenance is not required as often as other hair extension methods.
Micro Bead hair extensions are similar to Fusion hair extensions when it comes to the attachment. However, there is no glue or keratin to bond to the hair. It can last anywhere from 3 months to a year depending on how much hair you initially purchase. Maintenance is required between 4-8 weeks and sometimes the hair can be reused.
Tape-In hair extensions is the latest hair extension technique and the best technique for thin, fine hair. They can last up to 6 months and needs to be maintained every 4-8 weeks.
Skin Weft hair extensions is a non-permanent technique similar to Clip-In hair extensions. This technique is best used for special occasions and can last a year or longer depending on how often you wear them.
Clip-In hair extensions is a great alternative for those wanting thicker or longer hair for an evening. They can last anywhere between 6-12 months depending on the quality of the hair and how often they are worn.
No matter which technique you choose to go with, the most important factor that determines how long your extensions will last, is the way you care for them. Keeping up with maintenance appointments, braiding your hair at night before bed, lightly brushing your hair extensions when brushing is needed, not washing your hair daily, keeping your extensions moisturized with a good shampoo and conditioner, as well as a spray leave-in conditioner, are keys to longer lasting hair extensions.
Here at Palm Beach Salon, we offer the Keratin Bond, Micro Link, Tape-In, Skin Weft and Clip-In techniques.
Do Hair Extensions Damage your Hair?
Many people claim that hair extensions cause hair loss and damage to a person´s hair. Although there are some cases where this can happen, there are usually many factors involved. For example, did you keep up with your maintenance appointments and maintenance routine? Were you applying heat to your hair daily? Did someone put the hair extensions in that does not specialize in this area of expertise?
If your hair extensions were attached too tight, creating tension on the root of the hair, this could potentially cause hair loss. After your first appointment, if you are not used to hair extensions, your head may feel a little soar. This does NOT mean that your hair extensions are too tight. When the hair attachment is too tight, usually red bumps are present on your scalp that you can see or feel. If your head does not feel better within 72 hours, it is recommended that you follow up with your stylist.
It is also important to have your extensions maintained so that your Hair Extension Specialist is given the opportunity to move the hair extensions around from initial attachment, to avoid constant tension on these areas of your head.
Like our own hair, if you use too much heat and consistently style your extensions, this could cause damage to your own hair. It is recommended that you style your hair once in a while and wear your extensions naturally much of the time.
Damage can also come with Clip-in hair extensions if you are not careful. If you put the clips in the same spot every time, this can cause hair loss.
The two techniques that have been criticized for causing the most damage, is the Keratin extensions, and Sewn-in extensions. Often, damage happens to hair that is fine and thin when using techniques such as this. Sew-in hair extensions are generally too heavy on an already delicate scalp, and the Keratin Bond is usually too thick in density which is not suitable for thin hair. The Keratin Hair extensions can be cut in half, so that there is not too much tension being put on the hair. Those who have medium to thick hair, can benefit from these attachments with little to no damage, as long as they are properly maintained.
Getting your hair extensions done with a professional is the best way to make sure that your hair extensions won´t cause any long-term damage. At the first sign of any damage, be sure to visit your stylist right away to limit any damage.
What Method is Best for Me?
When it comes to choosing hair extensions that are best for you there are many factors involved such as what hair type you have i.e. the texture and density, what look you are going for with hair extensions/the image you want to portray, and your budget.
Clip In Weft/Skin Weft
If you simply want the long hair look for a party or a special occasion, you could go for the clip in weft hair extensions or the skin weft hair extensions. Depending on the quality of the hair you buy, you can wear these hair extensions as little as 4 times up to a couple of years.
The Clip In hair extensions are hair wefts that have little clips that you attach to your own hair. These are great if you do not want to commit to wearing hair extensions all the time. You do have to be careful when purchasing Clip In weft hair extensions. You must make sure that the hair you buy matches your color and the density matches your own hair. If this is not accurate, the extensions will not look right. Also, placement of these hair extensions is of the utmost importance. You have to understand where to place multiple wefts throughout your hair, so the hair lays right within your own hair.
Skin Weft hair extensions are very similar to Clip In hair extensions. There are some differences however. The skin weft hair appears as if it is growing right from your scalp, whereas the Clip Ins have a sewn appearance at the top of the weft. Therefore, the skin weft hair extensions have a very natural appearance. You attach this hair by using tape that is provided by your stylist, rather than clips. The hair lays flatter and looks and feels more secure than Clip Ins. The tape can last up to a week or until your next hair wash. It is a quick and easy removal process. You will be given a gentle substance that you simply spray in between the weft and your hair, the weft will then be instantly released.
Fusion Hair Extensions
If you want a more durable, long lasting hair extension with the least amount of maintenance, you would do well with the Fusion Hair Extensions. This type of hair extension attachment can be used for up to 6 months, but is recommended to be replaced after 4 months of wear. This hair extension attachment is higher in cost initially, however they will last quite a bit longer than other attachments. Meaning, you will not need maintenance appointments from the time they are installed, to when you will need new ones (4-6 months). This type of attachment is best for those who have extremely healthy hair that is medium to thick in density. Fine or thin hair should not wear this type of extension since it is attached to your natural hair by a strong bonding substance known as Keratin.
I-Tip or Micro Beads
This method is similar to the Fusion hair extension technique in the sense that they both build length and/or volume using the strand by strand method. This technique does not use heat or glue to adhere to your hair so it is great if you do not want any glue-like substance as a means of attachment. Your hair is pulled through a bead and clamped shut. The I- Tip/Micro Bead method is best for medium to thick hair. Like the Fusion hair extensions, it is not recommended for thin or fine hair. The extensions can last up to 6 months and do have to be moved up as your natural hair starts growing.
Tape In Hair Extensions
Tape hair extensions are great for all hair types, specifically for those with medium to fine or thin hair. There is no glue or heat involved. There are brands out there with different options but generally, the tape is about 1 1/2 inches wide. The extension adheres to your hair by the tape and is then secured by another tape extension underneath it like a sandwich. The tapes are very light weight and lay extremely flat to the head, making them nearly undetectable. These extensions last anywhere from 4-6 months and will need to be moved up as your hair grows.
Micro Link Weft Hair Extensions
This method is used by pulling your natural hair through micro beads that are attached to wefts, then clamped shut. There is no heat or harsh glues involved and you can have instant volume or length in just minutes. This technique is best for medium to thick hair and will have to be moved up as your natural hair grows. The hair can be reused and can last up to 6 months before new hair is to be purchased.
No matter what option you choose to go with, you must also consider how much time you´re willing to dedicate to caring for your extensions. If you´re a busy person and are not willing to spend a little extra time dedicated to styling your extensions, then you may opt for a less committal hair extension type.
The bottom line is that the right method for you will depend on your individual circumstances, your ability to care for your extensions, and your budget. Your stylist will help you find the right option.
Do Hair Extensions Look Natural?
If you want your hair extensions to blend in with your own hair and look as natural as possible, you´ll want to find a stylist who knows how to properly blend hair extensions and has a good eye for matching the color and density of your own hair. These factors are a MUST to achieve the most natural look.
Many times thick hair can look extremely unnatural with hair extensions because not enough hair extensions were put in. If you are looking for length and you have thin hair, the hair extensions can also appear unnatural if too many extensions were put in towards the bottom of your hair while trying to achieve that extra length. Your stylist has to find the right balance between your natural hair and the hair extensions being put in.
Keep in mind that just because a stylist offers a specific "type" of hair extension technique, that does not mean that the technique is right for your hair. For example, someone who has extremely fine hair goes to a stylist that offers the Fusion hair extensions. Fusion hair extensions can be damaging to fine hair and can often be seen through the client's fine hair. This technique is likely not the best option for you.
When it comes to hair extensions, one size does NOT fit all. There are many options out there for you, you just have to find the right stylist who offers those options. Although the quality of the hair extensions is very important, it´s even more important to have a great stylist working on you.
How do Hair Extensions Work?
Hair extensions are best described as an extension of your own hair. Different attachment methods are offered and hair extensions have become a popular alternative to adding color, length, or volume.
There are two main types of hair extensions: Temporary Hair Extensions and Semi-Permanent Hair Extensions. These types of hair extensions work in different ways. Temporary extensions are more of a fashion statement than a long term hair style. If you are going for a different look for an evening, the temporary options are best for you. Semi Permanent hair extensions are different in the sense that they are worn on a daily basis and are treated the same as your own hair. You have the appearance of extra length and/or volume on a more permanent basis. This option is great for those who want to look and feel their best daily without dealing with the frustration that can come when placing temporary hair extensions on your own head. Some, opt to wear semi-permanent hair extensions but will put temporary ones in when they have an event and are seeking that extra volume.
There are many temporary or semi-permanent hair extension options out there suitable for your lifestyle. You just have to find what is right for you through an experienced Hair Extension Specialist.
Can I Get Hair Extensions After Chemo?
Balding during chemotherapy can be extremely detrimental to a woman, and for good reason, many women are anxious to get their healthy appearance back. The good news is that it is possible to get hair extensions after chemotherapy, though you´ll have to take a few things into consideration.
After going through chemotherapy, your hair may grow back weaker and thinner than before, especially during the first few months. The hair may not be strong enough to hold the hair extensions and this could cause the extensions to fall out, or worse, cause damage to your own hair. You want to make certain that your new hair is healthy and strong. You also need about 4 inches of new growth to attach the extensions to. The shorter your hair, the more obvious the extensions will be. It is best to wait until your hair is long enough for the hair extensions. If your hair is on the shorter side and you are eager to have long hair, there are other alternatives for you. Our favorite technique is utilizing a hair piece combined with hair extensions. This better camouflages your short hair, making it nearly impossible for others to know that you have hair extensions.
Be sure to express your concerns with your stylist before getting any sort of extensions put in after going through chemo.
Facts/Statistics About Hair Extensions
Over 90% of women who wear hair extensions keep them hidden from family and friends. This attests to the ability of hair extensions to look extremely natural. If your own family can´t tell you have extensions, then your stylist is doing a good job.
Close to 34% of women have used hair extensions as part of their image and beauty routine at some point in their lives. Many more women than what we normally believe use hair extensions. And why do women wear hair extensions? Over 75% of women who wear hair extensions listed "adding volume" as the main reason why they chose to use the extensions.
What to Avoid in Hair Extensions?
Hair extension technology has advanced in the last couple of years to the point that many hair extensions can be virtually unnoticeable as they blend in with your natural hair and your image. However, in order to get the best look for your hair extensions, you´ll want to avoid certain products and techniques.
Firstly, avoid getting extensions from hair or fibers that have been chemically treated and processed to match a certain hair color and type. The more that hair has been treated, the less natural it is going to appear. Also, avoid certain glues that can become uncomfortable and messy when attaching the hair extension.
Last but not least, finding a certified stylist is the most important part of getting your hair extensions. Avoid at all cost any stylists that are unqualified or stylists that recommend hair extension brands that require you to change the extension every couple of months. A quality hair extension put in by a certified stylist should last you several months.
How to Care for Hair Extensions
Both synthetic and real hair extensions require much more than simply going to the salon to get them put in. If you want great looking and long lasting hair extensions, you´ll have to be dedicated to caring for them in the long run.
First things first, your hair extensions need to be regularly washed just as if they were your regular hair. Using non-conditioning shampoos is probably best, especially if you have fusion extensions. If you notice that your hair extensions are beginning to come undone, your stylist may recommend that you change shampoo brands as some ingredient in the shampoo may be negatively affecting the extensions.
You´ll want to color your natural hair before getting extensions as coloring after the extensions are in can cause problems. Another important issue to take into consideration is how you style your hair. If you have natural hair extensions, you can continue using your regular grooming products (combs, brushes, etc.) without worry. If you have synthetic extensions, however, your stylist may recommend different types of styling products to better care for the extensions.
When it comes to taking a dip in a pool or the ocean, make sure to always put your hair in a swim cap. Pools especially are loaded with chemicals that can dry out your hair and your extensions won´t have the same ability to moisturize as your extensions. After taking a dip make sure to immediately wash your hair.
Last but not least, checking in regularly with your stylist to make sure that the extensions are holding up the way they´re supposed to is the best thing you can do to care for them. A qualified hair stylist with experience in putting in hair extensions will be able to notice any imperfections before they get out of hand and make the necessary amends.
Can I Wash, Brush, Curl, Blow Dry and Wash my Hair Extensions?
Unless you´re planning on getting dread lock extensions (and not many people go that route), you´ll need to care for your hair as if it were your real hair. Washing your hair extensions is a must, but your extensions will react differently to different shampoos and conditioners. Asking your stylists for recommendation of the best hair care products to use is key.
You can blow dry your hair extensions in most cases, but there are certain types of hair extensions and additives that can react negatively to blow drying. The same goes for curling hair extensions. If you have natural fiber hair extensions (either human or animal hair), then you should be able to curl your hair without any problem. Synthetic fibers may react negatively to curling (or straightening) your hair. In any case, your stylist will give you a detailed list of "do´s and don´ts" when you get your extensions put in.
Will Anyone Know I am Wearing Hair Extensions?
The quality of your hair extensions depends on four factors: the type of fibers used in the extensions, the method of connecting the extensions to your real hair, the ability of the stylist that puts in your extensions, and how well you care for your extensions in the long run.
If you choose to go the cheap route by purchasing cheap synthetic fibers that are loosely woven into your real hair by a stylist without much experience, most of your friends and family will probably be able to tell pretty quickly that you have extensions.
If however you choose a more natural fiber that is either fused with your real hair or woven in by an experienced professional stylist, then most people won´t be able to tell. Another important factor is in how your care for your extensions. By maintaining a dedicated grooming and cleaning routine, your hair extensions will continue to be unnoticeably beautiful for many months.
Can I Have Hair Extensions on Short Hair?
Yes you can! In order to get hair extensions, you´ll need at least 2-3 inches of hair. Some stylists claim that they only need one inch of hair to work with, but the longer your hair the better chance of having a firm hold between the extensions and your natural hair. Furthermore, certain methods of applying hair extension require longer hair to start with in order to ensure a good bind between the natural fibers and extension fibers.
The shorter your hair is before getting extensions, the higher possibility is that your extensions might be more noticeable. If you have extremely short hair and want extensions, you may need to have the hair extensions blended with layers to avoid them being obviously noticeable. If you want to avoid all this hassle, simply growing out your hair to 3-4 inches long will allow you more options for your hair extensions.
Why Have a Professional Install your Extensions?
The internet is full of "do it yourself" instruction guides on how to put in your own hair extensions. Many salons also claim that they can install your hair extensions for a minimal price. However, the quality of your hair extensions will depend on who you hire to do it.
There are many methods of installing hair extensions, and most amateurs are only capable of using the most basic methods for hair extensions. If you´re wanting a temporary (think a couple of days to a week) style, then by all means try and do your extensions yourself. However, if you want a great look that will blend in naturally with your hair and keep the natural look for months on end, you´ll need the help of a professional.
Professional stylists who specialize in hair extensions have at their disposal a variety of methods to install your extensions. They can offer some of the most up to date fusion technologies that promise the most natural looking and enduring extensions. Furthermore, a professional stylist will be able to offer you advice about how to combine your extension with your own image and style as well as offer recommendations about how to best maintain and care for your extensions.
Hair Extensions for Fine Hair, Thick Hair, and Thinning Hair
Hair extensions can be added to any type of hair thickness, though the thicker and stronger the hair, the more possibility of the extensions holding. Many women with fine hair often worry about how extensions will hold up for them. As long as you are not experiencing hair loss, then extensions will work for fine hair as well. If you choose to have your hair extensions braided or woven to your natural, fine hair fibers, the weaving may take longer and use more strands of your hair to add extra strength to the extension.
Since all types of hair extension add some sort of stress and "pull" on your natural hair, it is not recommended to get hair extensions if you have hair that is thinning or if you are experiencing hair loss. The extra stress on your thinning hair by the extensions could actually speed up the thinning of your hair instead of covering up the thinning. For women who are experiencing this, the use of wigs might be an alternative.
Many women periodically experience thinning hair at times during their lives. For example, while breast feeding, many women have complained of the thinning of the hair. Once they´ve stopped breast feeding, however, their hair usually does grow back with normal strength and in this case extensions can be used while the hair grows back to its normal length.
Are Hair Extensions Right for Me?
If you enjoy trying out different hair styles and looks, but don´t necessarily want to have to wait several months for your hair to grow out, then hair extensions might be right for you. Getting hair extensions allows you to instantly get that long, flowing hair you´ve always wanted without having to wait months or years while your natural hair grows out.
Also, many women get hair extensions because they allow them to experience with types of hairs that they simply can´t have naturally. For example, if your hair is naturally fine but you´ve always to have a thick, voluminous head of hair, extensions can allow you to experience that type of hairstyle.
There are dozens of types of hair extensions available from clip-in styles, to glue-in styles, to sewn-in styles. There are also tapes, micro-rings and fusion technologies available. A professional stylist with years of experience can recommend you the best types of hair extensions for your particular hair type and personality.
First Time Getting Hair Extensions?
Have you ever wondered how Hollywood stars have long, flowing hair one day and the next they appear with a short, close cropped look? Hair extensions allow all types of women to play with their look and experience a number of images without having to wait years or months for your hair to grow out.
If you´re thinking of getting hair extensions, there are a few things you need to consider beforehand. The first thing you´ll need to do is research the available options. Many women might think that all hair extensions are the same, but learning about what the options, their price range, and what they offer for the specific style you´re looking for is key.
Unless you only want a short term hair style for a day or two, consider your extensions an investment. If you go the cheap route, your extensions probably won´t last very long. Consider investing in the more expensive options if you want your extensions to be a long term part of your look. For example, the top option for hair extensions is virgin Remy hair which means that all of the hair cuticles are going in the same direction.
Lastly, find a stylist who has plenty of experience installing hair extensions. He or she will be able to offer you valuable advice regarding which style is best for your particular hair type.
Looking to Try Hair Extensions Again?
Perhaps you´ve had hair extensions before and they didn´t turn out the way you had hoped. There are a number of reasons why some hair extensions simply don´t turn out the way a client is hoping they will. You may have gotten cheap, synthetic fibers that didn´t bond well with your original hair or chosen a bonding technique that didn´t stand up to the test of time. You also may have chosen a type of extension that didn´t blend well with your natural hair or chosen a stylist that didn´t have the necessary experience to make sure that your extensions would be adding style to your look for months on end.
If you´re thinking of trying hair extensions again, the most important thing you can do is find a stylist with experience. Do your research on the different options available and ask if certain options are right for you. For example, if you tried the woven-in technology for hair extensions and they quickly started to fall out, your hair may be too fine for that type of extension. Fusion or glue-in technologies might be the best option for you if you want to try extensions once again.
Lastly, if your hair is sensitive and damages easily, you might want to ask about micro-ring or micro-bead technology. This new and innovative technology allows hair extensions to be put in without any glue, heat, tape or sewing making them virtually impossible to damage your hair. With so many options on the market, you´ll definitely be able to find a hair extension technology that works for you.
How Long does it Take to put Hair Extensions in?
So you want hair extensions but you don´t necessarily want to be sitting around the salon all day while a stylists works on your hair. The length of time it takes to put in hair extensions depends on the type of technology and the skill of the stylist.
For the super quick option, glue-in extensions can give you a full head of new hair in as little as half an hour. The track and sew method or the fusion method can take considerably longer in some cases up to three or four hours. In stands to say that the methods that take longest usually hold up better long term.
If you want the best looking and longest lasting extensions but don´t have time to sit in a salon chair for four hours at a time, many stylists will be willing to split up the process of putting in extensions into multiple sessions.
Can I get ombre Hair Extensions?
Ombre hair color effect allow your hair to transition from a natural color to a warmer and spicier hue in the lower parts of the hair. The key to having great looking Ombre hair style is to gradually blend the change of color instead of having a sharp contrast.
Ombre hair extensions can be blended with the natural color of your hair and allow you to choose the color transition that the extensions offer. This look is one of the hottest current trends in the hair style world and is completely doable with a number of hair extension methods.
What are the Least Damaging Hair Extensions?
Most hair extension technologies rely on some sort of glue or heat application to effectively bond the extensions to your natural hair. These technologies help to assure that there is good bondage between the extension and the natural hair but also carry the risk of damaging your natural hair, especially if your hair is weak or particularly vulnerable. Even the braided or sew-in methods can damage your natural hair because of the extra stress they put on the hair follicles.
Two current hair extension methodologies, however, vastly limit the damage that could be caused by hair extensions. The micro bead or micro ring system uses no heat, glue or sewing making them virtually damage free. A tiny bead or ring clips on to the end of the extension and the end of your natural hair allowing for a durable bondage that isn´t noticeable at all. Another perk of this system is that you can condition your hair, use other hair care products and even use heat styling appliances.
The micro bead or micro ring is a great option, but if you want longer lasting extensions, a cold fusion method is also available today. This method fuses your natural hair with the extension without the use of any heat thus limiting the amount of damage. Though it does use some glue-based products, it offers a very durable and long lasting extension.
How to Tell if I have Quality Hair Extensions?
The best way to tell if you have quality hair extensions is if no one can tell that you have them. A good hair extension will effectively blend the extension with your natural hair color and thickness. Furthermore, quality extensions will also use the best quality fibers for your hair extensions. This usually means choosing natural hair fibers over synthetic fibers.
Also, if your hair extensions are put in too close to the root of your natural hair, it can cause pulling and tension that could even leave bald spots. Another tell-tale sign of good hair extensions is having the extensions put in places that are extremely noticeable, such as near the top of your head or near your face.
While most hairstyles are done to get noticed, it´s ironic that the sign of the best quality extensions is that they´re virtually unnoticeable.
What is the Maintenance Routine of Hair Extensions?
Getting great extensions put in is the only the beginning of maintaining that fantastic look of a full head of hair. In order to keep your extensions looking good there are a number of things you´ll need to do as part of your after care work.
Finding a good shampoo and conditioner that doesn´t dry out your extensions or affect the bondage between your natural hair and the extensions. If your extensions do start to fall out, you´ll need to visit your stylist to see if your shampoo is the cause. Non-conditioning shampoos are generally better for extensions than shampoos with conditioners. For styling your hair, you´ll need to take care if your extensions are made from synthetic fibers which may react negatively to some curling irons and other devices that use heat.
The most important part of your maintenance routine is to check on your extensions regularly. If you see that they are loosening or coming apart, you´ll need to contact your stylist immediately to remedy the situation before it gets out of hand.
Living with Hair Extensions
Hair extensions give you a whole new look and style, but many women fear that having extensions will limit what they can and cannot do. Extensions that are well installed and properly maintained shouldn´t affect the majority of activities that you´re involved in.
If you go to the gym, putting your extensions up into a ponytail should be enough to keep your longer hair out of the way. Make sure to shower after exercising as longer hair can cause you to sweat more than usual.
Everyone loves a dip in the pool or the ocean during the hot summer months, and with a little bit of extra care, your hair extensions won´t suffer at all during your dips in the water. Make sure to cover your hair (and the extensions) with a swim cap before getting in the water. There are a number of swim caps available, and some can be quite stylish as they combine with your swimsuit. Pool chemicals especially can cause damage to your extensions, so it´s important to keep them covered at all times and make sure to wash them as soon as you are done with your pool time.
Professionally installed hair extensions allow for robust connections between your hair and the extensions. These solid connections will allow you to participate in any type of physical activity such as jogging, participating in sports, or others without any negative consequences.
Hair Extensions Length Guide
Hair extensions can come in any number of lengths. Clip in extensions generally come in a variety of predetermined lengths ranging from 10-12 inches to 24-26 inches. Other, more permanent and durable extension technology like micro beads, fusion technology or glue-in technology can have the length of the extension adjusted to the desire of each client.
The best way to determine the length of your desired extensions is to purchase a set of cheap clip in extension, hold them slightly away from your scalp and let them fall down your shoulders or back. It can be hard to imagine how your hair will look with long extensions in, so it´s best to get an idea first.
Once you´ve found the length you want for each part of your hairstyle, talk to your stylist and ask if the hair extension technology you want can be adapted to your desired length.
The Thickness of Hair Extensions for Different People
If you have naturally thick hair, it may be difficult to find hair extensions that blend in with your type of hair. Most hair extensions are made of finer hair and combining fine extensions with naturally thick hair can be very noticeable.
Remy human hair extensions are usually your best bet for extensions for thicker hair. Each strand of natural hair fiber is sewn to face in the same way to make sure that your extensions flow with your thick hair. Obviously, thick extensions will weigh more, and many people opt for the clip-in extensions because of this.
If you have thin or regular hair, there are a number of different hair extension options for you. Both natural and synthetic fibers can be found that blend in with the thickness of your hair and allow for a natural, unnoticeable look.
The Goals of Hair Extensions
There are generally four reasons why people get hair extensions: increase length, add volume, cover up hair loss, and experiment with different styles. Many women long for long locks of flowing hair, but don´t want to have to wait for year while their hair grows out. Adding extensions allows you to get the length you want quickly and without the tedious process of growing your hair out.
Women with naturally fine hair can put in extensions to add volume. Thin hair allows for certain styles, but not for the thick, voluminous look of a full head of hair. Another benefit of extensions is that they allow for a variety of styles that can be difficult to achieve with only natural hair. Even highlights can be added through combining different colors of extensions throughout your hair.
Lastly, some women may add hair extensions to help with periodic hair loss. While hair extensions aren´t recommended for people who are losing hair due to age, it can help for women who lose their hair because of chemotherapy treatment or after child birth and breast feeding.
Color Chart for Extensions
One of the biggest benefits of getting hair extensions is that it allows you to play with different colors of hair. If you do opt for extensions that are a different color from your natural hair, you´ll need to die your hair first to make sure that the colors line up. There is nothing more unsightly than a blonde extension flowing from a noticeable patch of brown hair close to your scalp.
If you´d like to experiment with different color highlights, you can also add different color hair extensions placed strategically throughout your head of hair. Different companies offer a variety of colors for your extensions ranging from different hues of browns, blacks, reds, ambers, and blondes to the more daring blues and pinks. Here is one color chart for reference, though each stylist may work with different companies that offer different shades for extensions.
How Long Does my own Hair Need to be to use Clip-in Extensions?
Different stylists have different recommendations, but most agree that your hair needs to be at least 6 inches (15 cm) in order to use hair extensions. Any shorter and the extension could be noticeable or not bond well with your natural hair.
Will Extensions Damage my Hair?
Hair extensions do exert an extra stress or "pull" on your natural hair. Though they aren´t heavy, the process of connecting your natural hair to the extension can cause some damage, especially if you have weak or extremely fine hair.
In order to avoid any sort of long-term damage, a professional and experienced stylist can recommend a hair extension method that works best for your particular hair. For people with extremely weak or fine hair, the braided or woven extensions aren´t the best options. Cold fusion technology or micro beads or micro rings allow for quality bondage and are virtually damage free.
What are the Different Quality of Hair Extensions?
The quality of your hair extensions will depend on what type of hair fiber is used, what technology is utilized to attach the extension to your natural hair, and the experience of the stylist who installs your extensions.
Natural hair extensions are generally of higher quality, though some manufacturers have begun to market high quality synthetics that mimic natural hair. Heat styling appliances generally can´t be used with synthetic extensions and coloring your extensions is out of the question.
There are a number of hair extension technologies on the market and the type of extension you use will determine the quality. Pre-bonded extensions that are fused with your existing hair are usually the hair extension choice of many Hollywood actresses because it gives the most natural look and can last for up to 9 months. These are, however, the most expensive option. Other less expensive alternatives exist, that when installed by a qualified stylist can mimic the high quality of the fusion technology.
What are the Best Hair Extensions?
There is no universal best hair extension as each person will have different desires and particular hair characteristics that need to be taken into account. If you have the budget and strong, natural hair, pre-bonded, fusion technology hair extensions will last the longest and look the most natural when installed by a quality stylist.
If you only want extensions for a certain event or gathering, clip-ins will be the best choice for you. A qualified stylist can also make micro-bead, tape-in and other types of extensions look great on you. Talk to your stylist to find the hair extension technology that is best for you.
Is Remy Hair the Only Thing to Look for When Purchasing Hair Extensions?
Remy hair is undoubtedly the best type of hair fiber on the market for hair extensions. It looks natural, is shiny and smooth, and resists getting tangled. It will, however, cost you more than other synthetic options.
There are certain manufacturers in Asia that are making synthetic hairs that are of a higher quality that resemble more closely natural, human hair. These new synthetic hair fibers can withstand the heat from heat styling appliances as well. If you´re on a budget, ask you stylist about some of the quality synthetic fibers that are on the market today.
What is Remy Hair?
Remy hair is one of the best types of hair fibers used in all types of hair extensions. Many women in India and other Asian countries grow their hair out for the express purpose of selling it to hair extension manufacturers who cleanse and process the hair before making it into extensions.
Made from natural human hair, Remy hair uses strands that allow for each and every hair cuticle to be arranged in the same direction. When all of the hair cuticles are lined up in the same direction, the extension will look naturally silky and smooth and will last for a long time. This also helps avoid tangles.
Other types of hair, both natural and synthetic, that are used in extensions tend to get tangled and knotted. Remy hair allows you to use almost all of your heat styling appliances as well as die your hair if you feel the need. As it´s made from natural hair, the maintenance regime most resembles how you´d care for your natural hair.
Remy hair is widely considered to be the best hair extension fiber on the market because of its durability, shininess, and natural looking quality.
How Much do Hair Extensions Cost at a Salon?
Many people worry that getting hair extensions installed at a salon will cost a lot of money. For that reason, they try to install the extensions themselves. Many times the result is trashy looking extensions that need to be taken out within a few weeks or even days.
The cost of having a professional stylist with experience install your extensions will depend on a number of factors including the type fiber you choose, the technology you use for the extension and the amount of time needed to install the extension. A stylist may only charge you $20 or so to install a set of clip in extensions or as much as a thousand dollars for the great, long lasting look of pre-bonded extensions.
Some salons will offer follow up appointments to make sure your extensions are holding, and in the case that it takes a long time to install, you may be able to break up installation into different installments for your comfort.
Consider your extensions an investment on your part; a vital part of the new image you´re creating. Spending a little extra money to get your extensions installed by a professional stylist will make all the difference.
Price Range for Different People and Results
Some people wrongly believe that there are only two options for hair extensions: the cheap and temporary clip-ins or the state of the art fusion methods that cost thousands of dollars. Luckily, there is also a middle ground that offers a variety of styles and technologies that can be adapted to different budgets.
Firstly, the type of fiber used in your extensions will largely determine the price. Synthetic fibers and non-Remy human hair will usually be cheaper, while Remy hair will be more expensive with Virgin Remy hair being the top of the line and most expensive product on the market.
Sewn-in or woven extensions are usually quite a bit cheaper, though they can cause severe damage to your hair in the long run. The tape-in method is usually a middle of the ground alternative costing between $200 and $800 dollars. Micro bead or Micro Ring technology is also an option that usually costs below $1000 and can last for several months. The highest priced options will be the pre-bonded fusion extensions that can cost anywhere from $1000 to $2500 depending on the type of Remy hair used and the detail involved.
No matter what your budget, there are plenty of hair extension technologies out there and you´ll surely be able to find an option that is right for you.
Tape in Hair Extension Facts
The Tape-in hair extension method is the best hair extension method for fine or thin hair. Instead of using glue to attach the extension, a strong tape is used instead. Your own hair is secured between two 1 1/2 inch long extensions. These extensions lay flush to your head, which gives the hair extensions a seamless appearance. These hair extensions offer an extremely secure attachment. It is not common that the hair extensions become loose as one might think.
Tape in hair extensions are offered in a variety of ways. There are some brands that have large weft-like tape extensions or you can opt for the hair extensions that appear as if they are growing directly from your scalp. Most tape in hair extensions come in 1 1/2 inches and are attached at the base of the extension by polyurethane.
Since those with fine hair are often seeking volume, the hair extensions that appear as if they are growing directly from the scalp is by far the best method to use in order to achieve that desired look. Other hair extension attachments can often be seen on fine hair the further the hair extensions go toward the top of the head, which is what creates volume. At Palm Beach Salon, we custom color this type of tape extension to match your base color. This process, in addition to using the hair extension that appears like it's growing from your scalp, makes it nearly undetectable by others.
Tape hair extensions are reusable up to 3-4 times and do need to be moved up every 4-8 weeks as your hair naturally grows.
The options are endless with this Tape in hair extensions. If you were worried about damaging your hair, but desire to have thicker, longer or different colors in your hair, then this is the best method for you.
Definition of Popular Hair Extension Terms
Remy hair: Remy hair is natural human hair sourced usually from places in Asia. Manufacturers purchase human hair from women who grow it out for the express purpose of selling it. The hair is then cleaned and processed with each fiber being rearranged to go in the same direction. Remy hair is tangle-free, smooth and silky and widely considered to be the top hair for hair extensions on the market.
Fusion: This method is also known as pre-bonded hair extensions. The extension come with a glue pre-bonded onto the fiber which is then connected to your natural hair either by heat or some other method.
Micro-Bead or Micro-Link: This technology consists of a small metal ring or bead that is used to connect the extension to your natural hair. Your natural hair is pulled through the bead which is then pinched shut with a pincers or pliers.
Weft: A clear polyurethane piece of plastic that is holds hair extensions usually used in tape-in methods.